With Ho Chi Minh City announcing plans to build 3D cinema halls at Children's Houses in the various districts, the public is questioning the necessity to build such cinemas at this time.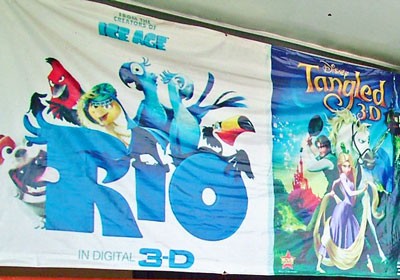 Two 3D films that were shown in the Children's House in District 2 (Photo: SGGP)
The People's Committee of HCMC plans to use its budget to construct 3D cinema halls in Cu Chi, Hoc Mon, Nha Be and Can Gio Districts, while in the other districts they will be built using the local budget.
District 2 opened a free 3D cinema hall one year ago at the Children's House at No. 200 Nguyen Duy Trinh Street. This was also the first cinema of its kind in the country, built at a cost of VND1.5 billion from the district's budget.
The Children's House director Nguyen Kieu Anh Nguyet said there are two shows every weekday and three on weekends. The cinema hall has a total of 105 seats. So far, 400 children have viewed four films, namely, Tangled, Rio, Little chicken and The Smurfs.
But surprisingly the cinema has been closed for more than one month now for upgrading and repair work. The seats and ceiling of the cinema hall are in poor shape and it will take at least two months to make it serviceable again.
The dilemma is that there are just a few 3D films for children. Four films shown last year to the children were provided by private individuals. In reality, it is hard to find 3D children's films.
The Children's House has sent a petition to the Ho Chi Minh Communist Youth Union and is waiting for their support in providing such films. Until then the cinema hall will remain unused--a total waste of billions of dong.
Vietnamese animation producers make 3D films but which are too short, mostly 10 to 15 minutes in length. Such short length films are extremely difficult to screen in either theaters or on TV, as they are just single episodes and not a series.
Learning from the debacle of the first 3D cinema hall in the country, people are now wondering whether more such cinemas should be planned. Some people think that instead of building cinema halls for 3D films, the country should build cinemas for normal films like cartoons, historical films or showing activities of the Youth Communist Union.
Director Hoang Duan, who has conducted many programs for children, said it is necessary to have a place for children to entertain and enjoy themselves; however, it should not be in 3D cinema halls.
It is high time for the government to re-consider their plan for construction of such cinema halls, which will be just a waste of money.