Ozomatli, a three-time Grammy winning musical group from the US, will perform in Ho Chi Minh City and Binh Duong Province May 11-15, the US Consulate General in the city announced May 4.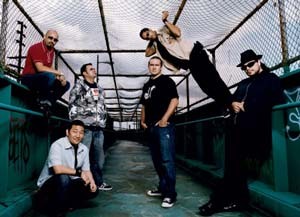 This hand-out photo shows the Ozomatli band
The band's tour is under a cultural program sponsored by the US Department of State and the US Consulate General.

The announcement quoted singer and guitarist Raul Pacheco as saying, "Our performance in Vietnam is a unique opportunity to continue to create a new relationship based on our own upcoming individual experience…It is truly an opportunity unlike any we have ever had."
Saxophonist and vocalist Ulisses Bella was quoted, "Going to Vietnam is a huge deal for me personally. It just seems like an excellent opportunity to break down some stereotypes and promote positive exchange."
Ozomatli will hold two public performances while in Vietnam. On May 11, they will perform at 19h30 at My Phuoc Theater in Binh Duong Province, next to HCM City. On May 13, they will play at 19h30 at the Lan Anh Club, in District 10, HCM City.
Tickets for the two concerts are provided free on a first-come, first-served basis. In the city, the public can get tickets by emailing the name, contact address and number of tickets required (maximum 4 tickets per person) to the US Consulate General's Public Affairs Section at HCMCCulture@state.gov. In Binh Duong, the contact person is Mr. Ngo Tran Anh Van, Anh Sao Duong Join-Stock Company, at 0650-3813-050.
While in the city and Binh Duong, they will also conduct humanitarian outreach events for disadvantaged populations, including programs at a vocational center for the disabled, a school for the blind, and an outreach center for people in recovery. On May 14, they will hold a mini concert for the disadvantaged.
Los Angeles-based Ozomatli is a multiethnic, multi-racial band who offer living proof that music can transcend cultural or social boundaries. The US Department of State has partnered with Ozomatli to stage tours in Asia, Africa, South America, and the Middle East.