40 contestants throughout the country will take part in the final round of Miss Vietnam Beauty Pageant 2014 which will be held at Vinpearl Phu Quoc Resort on the southern island of Phu Quoc in the Mekong Delta province of Kien Giang from November 23 -December 6.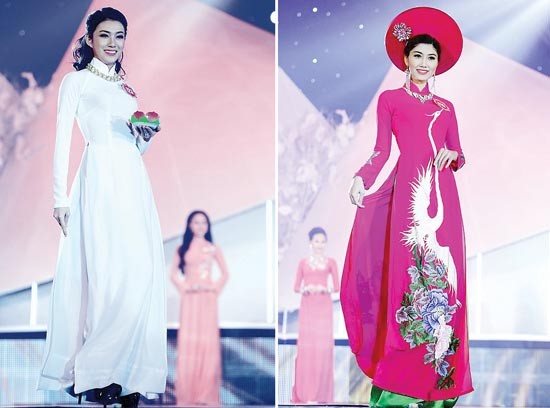 Le Thi Ngan Ha (L) and Huynh Y Nhi, two of the contestants of Miss Vietnam 2014 finale  (Photo: Sggp)
Contestants will participate in a series of side events, including visiting historical and cultural relic sites, joining social and charitable activities, meeting with naval soldiers and others.

The competition final will feature 'Ao Dai' (Vietnamese traditional long dress), swimsuit and evening gown performances, as well as a question and answer session on.

American pop star Kelly Clarkson, who won the first season of the renowned singing competition American Idol in 2002, will perform at the climax night on December 6, along with local singers Hong Nhung, Ho Ngoc Ha, Tung Duong and Ha Anh Tuan.

The winner will receive a cash prize of VND300 million (US$14,000) and a crown worth VND2.5 billion. The first and second runners-up will take away cash prizes of VND150 million and VND100 million respectively.
The crown of Miss Vietnam 2014 is made of white gold, featuring 18 natural pearls and one cultured pearl engraved with the image of ancient Dong Son drum. It has been registered in Vietnam Records for the crown with the biggest cultured pearl and highest number of natural pearls, said organization board.

The organizers will also award titles such as Miss Talent, Miss Beach, Miss Ao Dai (Vietnamese traditional dress), Miss Beautiful Face, Miss Perfect Skin, Miss Beautiful Hair, Miss Fashion and  Miss Most Voted. Each will get cash prize worth VND 30million.

Started in 1988, Miss Vietnam is one of the most prestigious beauty pageants in the country, aiming to to honor knowledge, morality and beauty of Vietnamese women. The winner of the contest will have a chance to be representative of the country to take part in the international beauty pageants.