Around 500 people will join hand to make 4,000 banh chung, Vietnamese Square Sticky Rice Cake in a program called "Making Banh chung for the poor" at Culture Tourism Village of Vietnamese Ethnic Groups on January 30-31.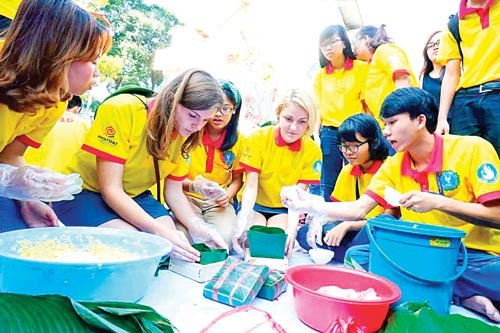 Young people make Chung cake for the poor. (Photo: Sggp)
Artisans from Uoc Le trade village in Tan Uoc commune, Hanoi will guide the participants with the ways to make banh chung.

Chung cakes will be presented to wounded and sick soldiers, orphans and children who are living in remote areas and meeting difficult circumstances in the northern mountainous provinces as well as victims of Agent Orange/dioxin.

People from Muong and Thai ethnic minority groups will prepare ingredients to make their traditional cakes, aiming to introduce their Tet customs.

The event is a good opportunity for Vietnamese people to express their close unity & to give the needy a warm and comfortable Tet as well as promote the unique cultural identities of Vietnamese people on Tet festival.