The 4th Vietnam Book Day opened at Thong Nhat Park in Hanoi on April 6 with the participation of thousands of readers.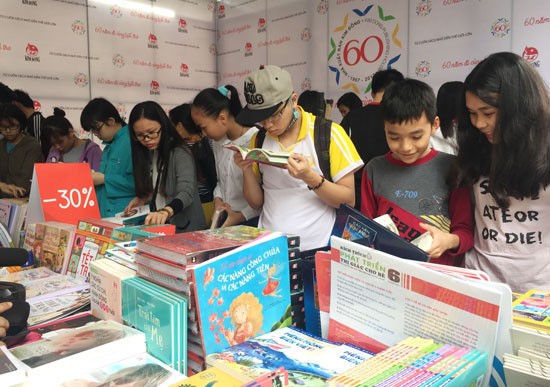 Readers visit the 4th Vietnam Book Day opened at Thong Nhat Park in Hanoi. (Photo: Sggp)
The event includes a book fair featuring 100 display booths of 80 publishing houses nationwide, presenting to readers about 40,000 book titles in various genres such as literature, policy, history, science, society and more; and stationeries.

A series of around 20 activities will be held during the event, such as the introduction of the historical work "Duong kach menh" (Revolutionary road)- a collection of lectures by President Ho Chi Minh during his revolutionary journey to Guangzhou, China in 1925-1927 which was published by the Truth-National Political Publishing House; a talk show on poet-journalist Do Quy Doan, former Deputy Minister of Information and Telecommunications.
The Vietnam Book Day was approved in 2014 by former Prime Minister Nguyen Tan Dung and it is scheduled to occur every year on April 21.
The show is to encourage and promote reading habit in the community and raise awareness of using books as a tool for critical thinking. It also celebrates appreciation for readers, writers, publishers, distributors, and other affiliates of the publishing industry.

The 4th Vietnam Book Day will run until April 10.