The sixth Music Contribution Awards, honouring outstanding contributions made to Vietnamese music, will be held at the Ho Chi Minh City Opera Theatre in April.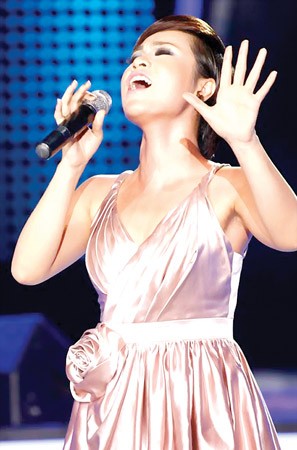 Vietnam Idol 2010 - Uyen Linh
The award aims to recognize individuals and agencies that have made an outstanding contribution to Vietnamese music and also honours the best singers, musicians, music albums, shows and programmes of the year.
The event will be organized by The Thao &Van Hoa (Sports and Culture) and will include four awards: Album of the year, program of the year, musician of the year and singer of the year.
A number of nominations for various categories in the prestigious Music Contribution Awards have already been made public.

The late People's Artist Y Moan's moving live-show, "Ngon lua cao nguyen" (Highlands Flame) performed last September with lots of typical romantic songs from the Central Highlands, is among five nominations, including "Dieu con mai" (Lasting Forever) by VietNamNet, "Sao Mai Diem hen" (Sao Mai-Rendezvous), "Vietnam Idol" by Vietnam Television, "Yeu" (In love) by Thanh Lam and Tung Duong, for the Program of the Year Award.
Nominations for Music Composer of the Year include Luu Thien Huong, Mai Khoi, Le Cat Trong Ly, Nguyen Hai Phong and Huy Tuan, while singers Tung Duong, Thanh Lam, Uyen Linh, Ha Anh Tuan and Duc Tuan are among the nominees for Singer of the Year.

Albums, namely "Bay gio bien mua dong" (Sea in winter at present) by Duc Tuan, "Bo doi" (Soldiers) by Thai Thuy Linh, "Cock-tail" by Ha Anh Tuan, "Li ti" (Tiny) by Tung Duong and "Nhung tinh khuc Phu Quang" (Phu Quang's Love Songs) by Tan Minh, are nominated as Album of the Year.
The voting for awards is planned to take place in mid-March. This year, the results will be a closely guarded secret until the prize-giving ceremony.