A month-long exhibition featuring 180 oil, silk, lacquer and pottery paintings by painter Le Thi Kim Bach took place at the Ho Chi Minh City Museum of Fine Arts yesterday.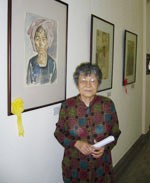 Painter Le Thi Kim Bach
Her works show human feeling, love for the country, life and nature. They are combinations of traditional and modern art, reality and romance.
The painter also offered 19 portraits of southern revolutionary veterans to the Fine Arts and Southern Women Museums.
Born in 1938, painter Kim Bach is one of the big names in contemporary fine arts in the country. She graduated from the Kiev National University of Culture and Arts ( Ukarine ) in the course of her studies from 1961 to 1967.
She has taught at the University of Industrial Arts, Ha Noi Fine Arts University, and Ha Noi University of Architecture and was chairwomen of the Art Council of the Viet Nam Association of Fine Arts.