The 1970 and 80's soft rock group, Air Supply, arrived in Ho Chi Minh City October 8, ready for two performances at Hoa Binh Theater on October 9 and 10.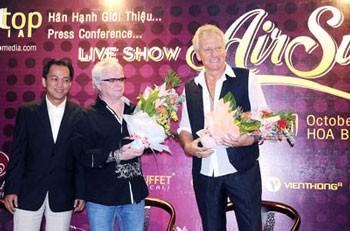 The soft rock band Air Supply has a press conference at Renaissance Riverside Hotel in HCMC on October 8. (Photo : An Dung)
This is the second time that the band has come to Vietnam, with their first performance in Hanoi ten years ago.

The duo, British guitarist and vocalist Graham Russell and Australian lead vocalist Russell Hitchcock, will perform ballads such as Lost in Love, All Out of Love, Every Woman in Love, Chances, Goodbye, Having You Near Me, Two Less Lonely People In The World and Making Love Out Of Nothing At All.

They will also play four new songs from their latest album, Mumbo Jumbo, to be released in January, 2010.
In 1980, Air Supply cracked the US market by releasing their album Lost in Love, with three of its singles reaching the Top Five on the US charts.
All Out of Love rose to second, Lost in Love climbed to third and Every Woman in the World reached fifth.
Thirty percent of the proceeds of the first show will be donated to support flood victims of Typoon Kestsana in the Central region, announced VietTop Media, one of the organizers.