Pham Phuong Anh, an eight-year old overseas Vietnamese, has been awarded second prize at an international music festival for children in Moscow.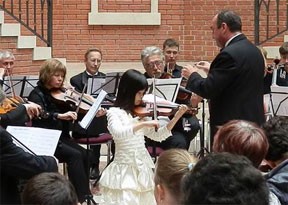 The file photo shows Pham Phuong Anh performing at the contest in Moscow.
The festival drew the participation of many junior artists from Ukraine, Belarus, Bulgaria, Germany, France, Vietnam and China, who competed in various categories, including traditional musical instrument, piano, violin and singing.
Phuong Anh's performance won great applause from the audience, and was selected for presentation at a concert in the festival's closing ceremony at Royal Park in Moscow.
The talented violinist is currently studying at a music school in southern Moscow. Her achievement is a great source of pride for the Vietnamese community in Russia.