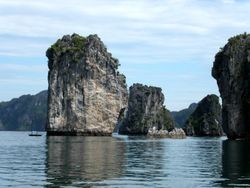 Ha Long Bay
Quang Ninh Province has licensed a Chinese travel company to build a huge floating stage for concerts and other shows next to the shore of Ha Long Bay.
Work on the US$10-million project, the biggest entertainment venture yet by a Chinese firm in Viet Nam, should begin within three months.
A group of the Quang Ninh Department of Culture and Information officials recently paid a working visit to China's Guangxi province to discuss the detailed plan with the Chinese firm.