The winners of the "Fresher air, better life" photographic competition received their prizes at the National Library in Ha Noi today.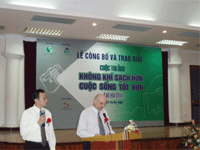 The organizer speaks at the prize-giving ceremony
The competition was launched three months ago by the Environmental Protection Agency and the Swiss-Vietnamese Clean Air Program to raise public awareness of Ha Noi's air quality and the importance of keeping it clean.

One first prize of VND10 million was awarded along with two seconds of VND5 million, three thirds of VND3 million and numerous VND1-million consolation prizes.

The winning photographs were described as showing a positive attitude toward air quality.