After 22 years collecting farmers' tools and instruments from the Red River Delta Plain, in 2005, Mr. Tran Phu Son, a retired state official, decided to establish a unique farmers' museum right in the heart of Ha Noi.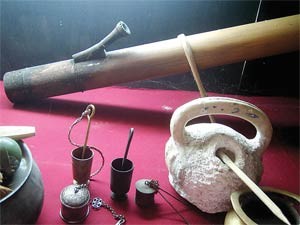 A collection of utensils used for betel chewing and pipe smoking

 

Stepping into the museum, visitors feel as if they were living in a quiet and peaceful countryside where the tools and instruments of the Red River Delta Plain farmers are exhibited high and low. 
Son said that he spent his entire retirement pension, up to VND 250 million, to transform his home into the first private museum in the country where over 250 objects are on display.
Strolling around the exhibition room for production tools and instruments, visitors can see ancient ploughs, rakes, picks, long-handles, bailing buckets and sickles. There are also tools and instruments used for husking rice like mortars, sieves, and pestles. 
Other note-worthy items include two palm-leaf raincoats, one originally from Ha Tinh Province and the other, Ha Tay Province, have drawn a lot of attention from many visitors as they not only can shelter a farmer from the rain and the wind but also shield him from the sun.
The furnishings displayed in the room consist of  bamboo beds and sofas, jute hammocks, old kerosene lamps and lamps made by bottles, and a number of kitchen tools like earthen tripods, copper frying pans and basins, bamboo dressers and baskets, wooden trays, and soy sauce jars.
There are also several cultural objects in the exhibit, like instruments used for worshipping such as cooper candle sticks, bells, wooden bells, and carved wooden compotes.

In the showcase where typical Red River Delta cultural objects are exhibited, there are  a monochord and a wooden smiling puppet called chu Teu (Little Teu), a figure of a four year-old child, whose belly is always exposed as he just wears either an unbuttoned red vest or a loincloth. Little Teu is a favorite character of the Vietnamese Water Puppet Theater.

Visitors interested in the old women's culture of betel-chewing will be impressed with a collection of betel-nut trays, mortars, and lime-pots. For those who wish to find out about the old men's pipe smoking culture, a collection including pipe tobacco, farmer's pipes, and hubble-pubble pipes put in bowls will satisfy them.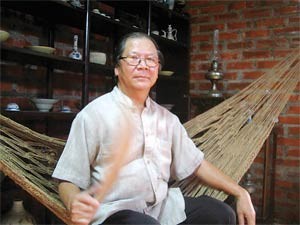 Mr. Tran Phu Son
 All the objects on display, according to Son, were made at least over fifty years ago and had been used by farmers in the plain, pointing out that there are old baskets blackened with soot and dusted with cobwebs as they were put on smoking shelves for years.

Son said, "The museum has welcomed many pupils, students, and groups of local and foreign visitors. The pupils were very interested in the bamboo mortar. They always asked me to teach them to use it to husk the rice."

Son's museum has also had the honor of welcoming a delegation from the French Embassy and the chairman of the Vietnam-German Friendship Association.

Recently, the Ha Noi Tourism Department proposed Son incorporate his museum into the department's system of tourist sites, but he refused, saying that he has collected farmers' tools and instruments as a hobby, not to make money.

Son hoped that by visiting the museum, many people will have a chance to acquire more knowledge about the culture and tradition of the people in the Red River Delta Plain.