A series of concerts marking the 245th birthday of composer Ludwig van Beethoven has been organized at the Goethe-Institute in Hanoi from September 19- December 3.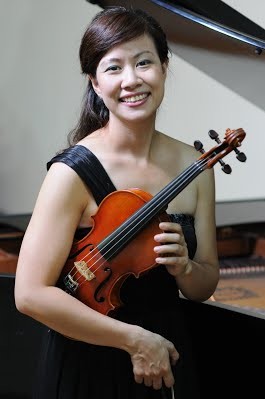 Violinist Nguyen My Huong
A four-part concert series will present sonatas for violin and piano on September 19, October 17, November 7 and December 3 respectively with the participation of renowned musicians Nguyen My Huong and Dao Trung Tuyen.

Beethoven is considered as a pioneer of Romanism. With his sonatas for violin, composed between 1797 and 1812, he was following his role model Mozart, who recognized the violin as an equal partner for the piano for the first time. Furthermore, Beethoven's sonata are known for their unconventional modulations and rhythms, which first shocked the audience, but after a while it was seen as the own course of the great classic artist.

Beethoven already enjoyed in his lifetime an outstanding position: Theworld premiere of his Sonata No. 10 in G major took place in Vienna at Prince Lobkowitz's palace and the archduke played the piano.

Around 200 years later you can experience this complete exceptional music cycle for the first time in Hanoi – an exceedingly occasion for lovers of music.

Violinist Nguyen My Huong studied at Hanoi Art School. Vietnam National Academy of Music, and at the University of Music and Dramatic Arts in Graz. She has been awarded with the "Youth Talent Award". As a member of the Asian Youth Orchestra and the PMF Orchestra she has performed several concerts at home and abroad, and given training courses in Japan, China, Germany, Austria and the U.S.

Currently, Nguyen My Huong works as a soloist in chamber music concerts with Vietnamese and foreign counterparts. She is second violin principal in the National Symphony Orchestra and teaches at the Vietnam National Academy of Music. Moreover, she has received an offer to be concertmaster in Hanoi Philharmonic Orchestra.

Pianists Dao Trong Tuyen studied with several prestigious piano teachers such as Hoang Vinh Huong, Hoang Hoa, Joel Pasquier, Professor Tran Thu Ha and Professor Dang Thai Son. In 2007, he completed his Doctorate of Music in Piano Performance at the University of Montreal in Canada.

Dao Trong Tuyen won the first prize in the National piano competition in 1990 and he has played concerts in Canada, France and Japan. He has recorded a large number of works for Vietnam National Television and Vietnam National Radio. He has also performed as a soloist with major orchestras in Vietnam such as Vietnam National Symphony Orchestra, Hanoi Philharmonic Orchestra and Vietnam National Opera and Ballet Orchestra. At present, Dao Trong Tuyen is a piano teacher at the Vietnam National Academy of Music.