Classical music concerts, a photographic display, an art competition for kids, a book talk, and a seminar for the water industry are all happening in Ho Chi Minh City during Dutch Cultural Week, which got underway on Tuesday.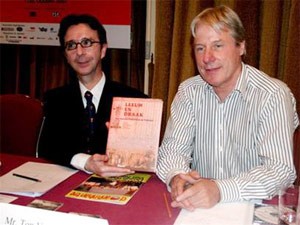 Professor John Kleinen (R) and Dutch Consul General Ton van Zeeland introduce the book about Holland-Viet Nam relations to the Vietnamese. (Photo:TTO)
The photographic display opens today at Chi Lang Park with pictures showing Holland's struggle to hold out the sea and prevent any more devastating floods like the lowland nation suffered centuries ago.
On Sunday, a painting competition for children should draw many budding artists to the park in Dong Khoi Street a little way down from Notre Dame Cathedral.
On the same day, David Porcelijn of Holland will conduct the Ho Chi Minh City Theatre Ballet and Symphony Orchestra in concert at the City Theatre.
There will also be a talk on a book of essays about relations between Viet Nam and Holland since their first known contact four hundred years ago. Edited by Professor John Kleinen, the collection is called "Lion and Dragon" and includes articles by Phan Huy Le, Nguyen Quang Ngoc and other Vietnamese academics as well as foreign historians. 

On Monday, the Park Hyatt Hotel will host a seminar on the treatment of drinking water, and industrial and municipal wastewater for the benefit of companies in the water industry.
The Dutch treat will conclude with a special performance by pianist Monique Copper at the Ho Chi Minh City Conservatory of Music on Tuesday.