The central Thua Thien-Hue province has designed a series of activities in November to mark the 15th anniversary of the Hue imperial city's UNESCO recognition as world heritage site.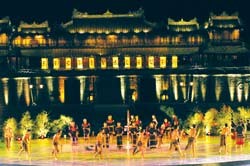 The opening ceremony of Hue Festival 2008.
The month-long festivities will also celebrate the fifth anniversary of Hue royal music's (Nha Nhac)'s recognition as a masterpiece of oral and intangible heritage.

A wave of publicity activities will be launched with contests and quizzes, talks and seminars, special programmes and columns on the mass media and leafleting.
Highlights include a seminar themed "Challenges and opportunities for Hue heritage in the world integration process" and a Hue Culture Week in Hanoi from Nov. 21-25.
The Hue Culture Week features an exhibition of photos of well-known female photographer and Hue native Dao Hoa Nu, calligraphy work, and a collection of royal objects from the Hue Royal Citadel Antiques Museum .
In addition, fine arts and handicraft products, gastronomy, and folk games and music popular in the ancient royal capital city will also be introduced to visitors.
The preservation of "Nha Nhac" has received a boost with a UNESCO-funded project which collects and hands over the royal music skills to young generations. Some 20 young "Nha Nhac" musicians have been trained through the project.