Actor Hong Son, a familiar face on Vietnamese television, breathed his last at the Bach Mai Hospital in Hanoi at 5am yesterday.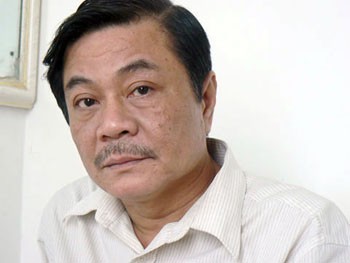 (File) Late actor Hong Son
He was suffering from coronary and cerebral infections while at his home and did not receive timely medication and care in a hospital.
On August 10, a neighbor discovered Son lying unconscious on the floor. Some neighbors broke open the door and admitted him to Bach Mai Hospital. Two days later he passed into a deep coma from which he never came out.
Hong Son was born in 1957 in Hanoi. He was loved by TV viewers in shows such as Ma lang (Village ghost), Dong song phang lang (Quiet river), Nguoi Hanoi (Hanoians), Co long chong (Long chong grass), Gio lang Kinh (Winds in Kinh Village) and Nha co nhieu cua so (House with many windows).
He was once admitted to a rehabilitation center for drug addiction. In 2008, he suffered two broken legs and two broken ribs in a road accident when on film assignment in Lang Son Province.
After recovery, he continued acting and his most recent job was as head of the TV-film production division of Ancom Company.
Hong Son's daughter said her family wished to cremate him and bring his ashes back to his Hanoi home.