Actress Ly Nha Ky has been selected by the Ministry of Culture, Sports and Tourism as Vietnam's Tourism Ambassador from September 2011 to September 2012.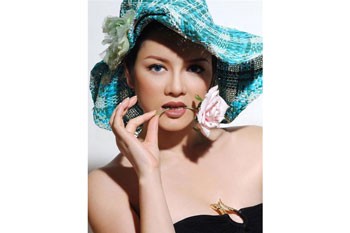 Ly Nha Ky
A Tourism envoy is chosen for his or her overall personality and communication skills in promoting the image of the country at home and abroad via community activities, media, communication links, the arts, photography and many other forms.
Ly Nha Ky (real name Tran Thanh Nhan) is known for her many roles in TV serials such as Kieu nu va dai gia (Beautiful women and rich men), Tinh yeu con mai (Being in love forever), Chuyen tinh yeu (Love story), Gia mua mot thuong de (how much for a God), Em muon lam nguoi noi tieng (I want to be a famous person), Vang trong cat (Gold in sand) and as an extra in the movie "Shanghai", directed by Swedish filmmaker Mikael Hafstrom.
She is also an Ambassador for Operation Smile in Vietnam since 2009, and Vice chairwoman of the Sheen Hok Charitable Organization in Hong Kong. She is currently the Chairwoman of Sheen Hok Charitable Organization in Vietnam.

Born in 1982 in Vung Tau, Ly Nha Ky moved to Germany to pursue her studies when she was 16.  In 2006, she returned to Vietnam to work and to be closer to her family. Attributed with a pretty face and attractive features, she was invited to participate in several TV serials.
She started her own business in 2006. Lynk Investment, Trading & Services Co. Ltd. specializes in investment projects, trading, real estate and property consultancy, film productions and public relations.