Soft rock group Air Supply performed the first of their two night gigs October 9 at Ho Chi Minh City's Hoa Binh Theatre (District 10). SGGP caught up with Air Supply backstage.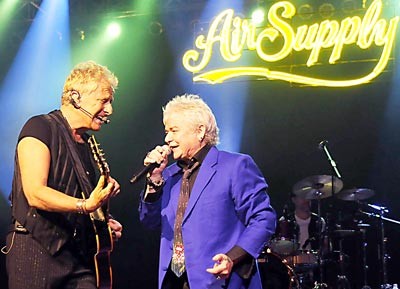 Graham Russell (L) and Russell Hitchcock from Air Supply perform October 9 at Hoa Binh Theatre. (Photo: SGGP)
SGGP:
People still remember your early image as a very fresh and young image of a pop-rock band. What do you think about your present image, is it much different from the past?  

Graham Russell: From what I saw and learnt from audiences who participated in our first night, we believe that we did not let them down. Ten years ago we had our first opportunity to sing our songs in Hanoi and this is the first time we visit your city. We really felt your [city's] warm greetings.  
Though we have become older, in age I mean, our music is still young. Air Supply still sings sweet love songs for the youth and probably we will keep that work going on and on in the future. You know what, maybe we are 60 years old now, but our hearts are still 20.  
Russell Hitchcock: The love from our fans from all over the world and especially from your people in this concert towards us makes us believe that Air Supply and our music still has a place in your heart. In fact, we always hunger for creating something new for our fans, but we understand that every change must follow the Air Supply's style. We want to be us only. Air Supply is only Air Supply, but not anyone else.  
Do you have any advice for any aspiring bands?

Russell Hitchcock: For every band who wants to jump into the entertainment industry, you should make your own unique style. You need a trademark for yourself. Don't miss a chance to perform your favorite songs. You must learn that, even if you are gifted at singing, if you do not choose the right songs for your voice and your style, you will barely keep your fame for long.
On the first night of the two-night concert by Air Supply in Ho Chi Minh City, October 9, Air Supply and their musicians won the hearts of the audiences with their soft, sweet melodies. Some of their previous hits were performed, including Sweet dream, Power of love, All out of love, The River cried, Two less lonely and The one that you love even the nights are better.

At the concert, Air Supply also performed four new songs from their upcoming album, Mumbo Jumbo, which is set for release next January.

The second gig in HCMC is on October 10.
Related articles:

80's soft rock duo arrive in city
Soft rock duo Air Supply to perform in Vietnam