The Trey McIntyre Project, an acclaimed American contemporary-ballet company, will make a tour of Vietnam, the U.S. Embassy in Hanoi announced on May 10.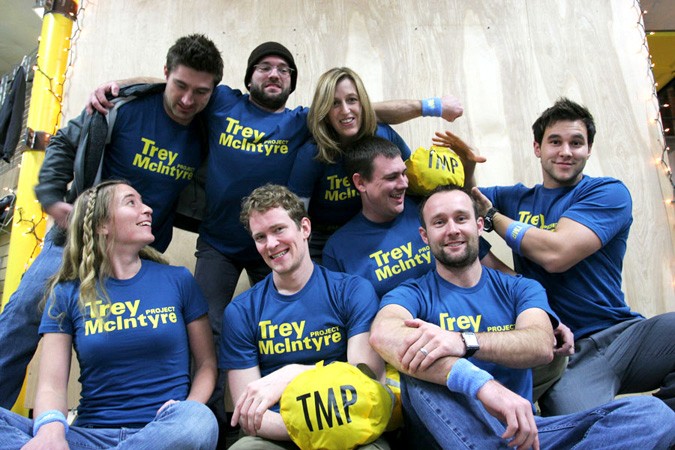 Members of the Trey McIntyre Project
The dance company will have a public performance at the Au Co Theater, at 8 Huynh Thuc Khang street, in Hanoi on May 16; and later will hold creative interactions with artists of the Theater of Vietnam Music, Dance and Song, and students of the Vietnam Dance College; and will also visit the SOS Children's Village Hanoi as part of their program. 
The dance company will continue on to Ho Chi Minh City, where it will have a public performance at the Opera House on May 18; creative dance interactions with Bong Sen dancers, master classes at Arabesque Dance Troupe, HCMC Dance School and HCMC Ballet Symphony Orchestra and Opera; and will visit the Disability Resource and Development Center.
This Vietnam tour will include public performances, master classes, lectures, demonstrations, workshops, exchanges with Vietnamese artists, and outreach to underprivileged audiences. 
Tickets for both performances will be provided free of charge on a first-come, first-served basis. 
For tickets in Hanoi, please visit the U.S. Embassy website at http://vietnam.usembassy.gov to register. 
For the performance in HCMC, please bring your identification to the following address to pick up the tickets on May 16 at the U.S. Consulate General Public Affairs Section, at the 8th floor Diamond Plaza, 34 Le Duan Street, District 1.
The Trey McIntyre Project was selected to perform in Hanoi and HCMC by Dance Motion USA, a program sponsored by the U.S. Department of State and produced by the Brooklyn Academy of Music. The aim is to share some of America's finest contemporary dance with people around the world.

The Trey McIntyre Project modern dance company, which burst onto the American national dance scene in 2005, uses the inherent beauty of ballet vocabulary to create exuberant dances that authentically and clearly convey the emotion and grace of life's journey while meaningfully engaging audiences in the experience of art.
Trey McIntyre has become one of the most sought-after choreographers today, creating works for the Stuttgart Ballet, American Ballet Theater, and the New York City Ballet. More information about Trey McIntyre and his company can be found at http://treymcintyre.com