The Vietnamese version of the US television show American Idol is coming to Channel HTV 9 and seven provincial channels on May 23.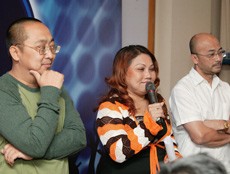 The three judges will be the singer Siu Black, and the musicians Ha Dung (R) and Tuan Khanh (L).
It's called "Than Tuong Am Nhac Viet Nam" (Viet Nam Idol) and will feature confident would-be stars of the stage from across the nation performing live before the cameras every week.

Like the original, Viet Nam Idol is really for amateurs who have never taken part in a singing competition.

The three judges will be the singer Siu Black and the musicians Ha Dung and Tuan Khanh, who will whittle the top one hundred contestants down to thirty, ten, two then one.

Viewers will be able to vote by text or a phone call to decide who goes on to the next level, who must leave, and finally their choice for the year's winner.

The registration dates for the series are April 4 in Can Tho City, April 12 in Ha Noi, April 19 in Da Nang and April 29 in Ho Chi Minh City. The auditions will last from April 7 to May 6.

Ho Chi Minh City Television is producing the show with help from the Viet Nam Advertising Company and sponsorship from the makers of Clear, Close-up and Lipton.

American Idol is the most popular television program in many countries including Canada, Australia, the Netherlands, Singapore, Malaysia and India.

The show has unearthed quite a load of previously hidden talent in the form of Kelly Clarkson, Carrie Underwood, Fantasia and others.