Globally renowned US rock band My Chemical Romance is to arrive in Viet Nam for a concert called "Unite 08" at the Military Zone 7 Stadium on January 20.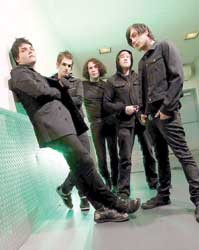 The rock band My Chemical Romance
Joining My Chemical Romance on stage will be two local rock bands whose names will be announced in the finale of a music competition called "Rock Your Passion", January 6.
Bringing world-leading groups to Viet Nam for performances with local bands is a part of the global Viet Nam Brewery project called "Tiger Translate" whose goal it is to uncover the nation's best rock performers.

Local participants are provided opportunities to exchange the latest information about their music industry sector, play, improve their skills and performance styles and learn more about composing indigenous rock songs.
My Chemical Romance was formed in 2001. Its members include Mikey Way, Frank Iero, Ray Toro and Bob Bryar, leading international alternative rock musicians already nominated for the American Music Awards, Grammies and more.

"Rock Your Passion" currently has the participation of over 50 local rock groups from across the country.


Realated article:
Let's Burn With the Passion for Rock Music