More than one hundred local and foreign actors, singers and dancers will participate in the American theater classic Annie Get Your Gun to take place at Tran Hung Dao Theater in Ho Chi Minh City on November 21 to 30.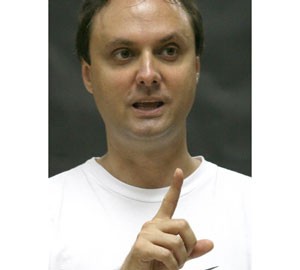 Director Brian Riedlinger  (Photo:TTO)
The artists from art troupes including HCMC International Choir, HCMC Ballet and Symphony Orchestra (HBSO), Saigon Players and Dancenter will on stage in 120 19th century costumes which are designed Broadway style, said director Brian Riedlinger, Head of the HCMC International Choir.

Kim Davis, British teacher of an international school in HCMC, will take a role of Annie Oakley. Richard Bond, member of a rock bank in the city, will step into the shoe of Buffalo Bill and Le Anh Huy, a 20-year old student of the HCMC International Choir, will portray Tommy, he added.
"I hope that the classic will attract Vietnamese audiences, especially young people. It is an opportunity for them to enjoy a well-known opera and learn English" the director said.

The Vietnamese version of the Broadway opera is on stage at an expense of around US$45,000. All proceeds will be donated to the Poussieres de Vie, a French charity non-government organization supporting street children and disadvantaged people.

Tickets at prices of VND500,000; 300,000 and 200,000 are available at Tran Hung Dao Theater,136 Tran Hung Dao Street District 1, Information and Tourist Guide Center, 4G-4H Le Loi Street District 1 and Mekong Merchant, 23 Thao Dien Ward District 2. A special treat at a cost of VND25,000/ ticket will be offered to students.
Annie Get Your Gun is written by Irving Berlin. The story is a fictionalized version of the life of Annie Oakley, who was a sharpshooter from Ohio, and her husband, Frank Butler.
The play was first staged on Broadway in 1946 and became a hit which were performed thousands times in New York and London.

Songs performed in the play also became hits including "There's No Business Like Show Business", "Doin' What Comes Naturally", "You Can't Get A Man With A Gun", "They Say It's Wonderful", and "Anything You Can Do."