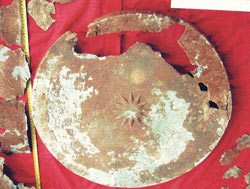 Ancient bronze drum is discovered in Dac Lac Province
A man living in Tan Lap Hamlet, Hoa An Commune, Krong Pach District, Dac Lac Province has founded an ancient bronze drum with many pieces of pottery around while digging a hole to plant coffee.
Many human bones, tooth and some jewelry such as spiral necklaces, agate beads, terra-collar beads and spinning tools were found inside the drum.
The drum is believed to be a Dong Son type I bronze drum, dating back 2,000 years ago, according to archaeologists.
It was given to the Dac Lac Province Museum on May 19, 2006.