The National History Museum and the Cham Museum in Da Nang Province announced the discovery of an ancient Cham Temple and Tower Relic at the Cam Mit Relic Site in Cam Toai Dong Hamlet in Da Nang City on December 11.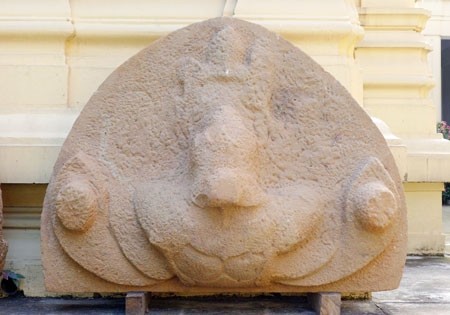 A Tympan leaf found in Cam Mit Relic Site
The ancient relic was discovered over an area of 500 square meters in Cam Mit Relic Site after a three-month excavation organized by the above museums.

The relic has the same foundation and structure as other relics of the Cham Temples and Tower structure such as the foundation of the tower walls, main tower for worship, main hall and hallways.
Archaeologists also found a number of antiques such as décor and pottery items.

The most impressive was a sculpture with five giant leaves of Tympan carved like a Garuda, a legendary bird in Cham culture. Each leaf is 1.38 to 1.66 meters in width, 1.27 to 1.42 meters in height, and 0.56-0.62 meters in depth.

Nguyen Van Cuong, Director of National History Museum, said that the relic is from the 13th or 14th century and is different from other relics of Cham culture.  According to him, the Tympan with the Garuda image has totally changed minds of local archaeologists about the culture which was known for its worship of Kala (God of time) and Maraka (sea monster) and Hang's River Goddess, Gangadevi.

In August, the Cham Museum had joined hands with the Hanoi National University to excavate the Cham relics in Phong Le Village in Da Nang City.