A Dong Son bronze drumhead dating back 2,000 years has been unearthed about a meter below ground level in the north-central province of Ha Tinh.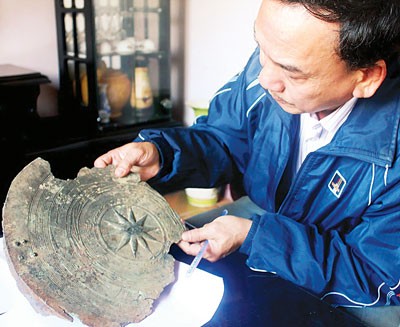 The 2,000 year old Dong Son bronze drumhead that was uncovered in Ha Tinh Province (Photo: SGGP)
The drumhead was found by chance by Ho Hai Nam, a resident in Thuan Thien Commune in Can Loc District.
The drumhead weighs around 3-5 kilograms and is 40cms in width and has many skillfully carved eye-catching vignettes and patterns.
Le Ba Hanh, deputy director of Ha Tinh Museum, said that it is a very unique and rare Dong Son bronze drumhead, uncovered for the first time in Ha Tinh Province.
The drumhead dates back approximately 2,000 years, he said, but because of being buried under the ground for centuries, it has become stained and rusty.