'Night in an Ancient Town' is a unique event that draws people from all over the world to Hoi An.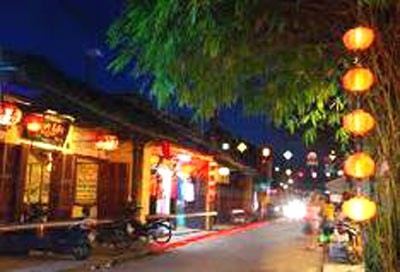 A night in the ancient town of Hoi An
The event launched12 years ago is solely identified with the ancient town of Hoi An, in the central Quang Nam Province. The event has attracted millions of visitors each year to Hoi An.
 
The town organizes a spectacularly unique and mystical event every month on the 14th day of a full moon night, when residents and visitors temporarily turn off all electric lights and light candles on the Hoai River.
 
The town then turns into a mesmericly breathtaking fairyland resembling a beautiful water-color painting. The event known as 'Night in an Ancient Town' draws people from all over.
 
Foreign visitors know the city of Hoi An as a tourist destination, its ancient architecture, its proximity to the Marble Mountains and its lovely China Beach.
 
Once upon a time Hoi An was far more than just a tourist destination. It was a vibrant, thriving and one of the most important seaports in all of Southeast Asia.
During the 17th and 18th century Japanese, Chinese and Spanish merchant ships anchored in its harbor. War changed all that and Hoi An became a sleepy town with little activity.
 
During the 20th century, rapid urbanization in commercial cities kept the focus away from this ancient town. Although Hoi An lost it importance as a trading center it still was remembered as an example of a traditional Vietnamese port city.
 
During the nineteenth and twentieth centuries, Hoi An was all but forgotten, allowing it to continue its ancient traditional way of life with little influence from the modern, urban and western dominated world.
 
Gradually by early 1980 local and international researchers began to turn their attention to Hoi An.
 
In 1999, UNESCO named Hoi An a World Heritage Site because it remained a well-preserved example of a 15th - 19th century Asian trading port and a unique combination of Vietnamese, Japanese and Chinese architecture.
 
With UNESCO's recognition came tourist recognition and the last decade has seen a different kind of commercial resurgence for Hoi An, as western tourists gradually rediscover the charm of this old Vietnamese city.
 
Walking on the streets like Tran Phu, Bach Dang, Nguyen Phuc Chu and Nguyen Thai Hoc in this ancient town, transports one into a time zone of days gone by. Many have felt like they were walking in a dream world.
 
Earlier domestic and foreign visitors knew Hoi An for its ancient multi cultural architecture, but now they feel the essence of an old era and spirit in the town.
 
Hoi An's government and residents have remained steadfastly loyal to the ancient spirit that this town exudes and all its cultural and art activities breathe that charm which are quintessential to this ancient town.
 
The town has attracted more visitors since the Hoi An Culture and Sports Center began to organize night tours and holding night events, popular food courts, art performances, folk games and a unique night market.
 
The serenity of the town of Hoi An epitomizes a calm, slow and easy pace of life.
 
One can go back in time as one wanders the many streets amidst ancient houses reflected by multi-colored lanterns with floating sounds of folk singing and traditional musical instruments, occasionally stopping to browse in a craft shop selling traditional Vietnamese ceramic and dreamily savoring the flavors of a life that once was.