Hundreds of artifacts discovered under rivers in southern Vietnam are on display at an exhibition at the Vietnam History Museum in Ho Chi Minh City.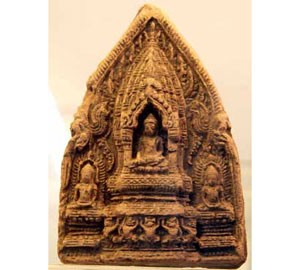 A Buddha sculpture dating back to the 12-13th century is on display at an exhibition in HCMC. (Photo:TTO)
They include jewelry, home appliances and objects of worship made of various materials like stone, pottery, gold, silver, and bronze.
They have been obtained from museums in the provinces of An Giang, Kien Giang, Can Tho, Tien Giang, Binh Duong, Dong Nai, Long An, and Ho Chi Minh City and from individual collectors.
Dating back to the prehistoric period they were discovered under rivers like the Sai Gon, Dong Nai, Vam Co, Tien, and Hau.
They originated in countries as diverse as Cambodia, China, France, Spain, and Mexico.
Among them are 101 relics found on Tan Loc isle (Hau River) and Phu Quoc by collector Huynh Phuoc Hue of Kien Giang Province and 70 objects from China and Britain possessed by Nguyen Minh Tu of Da Lat, all of which have been donated to the museum.
The exhibition, a window into the life of people in the south of Viet Nam, will be on show until April next year.