A delegation of Vietnamese artists will travel to China for the 42nd world conference of the International Council for Traditional Music in Shanghai from July 11-17.
At the world conference, the artists will introduce old popular 'Vong Co' songs and 'Tai Tu' melodies (kind of traditional music of the South often performed in a southern opera called Cai Luong).
Notably the "Indochina Dance" which is the most ancient piece in the music history of 'Tai Tu' was just found by researcher and music expert Nguyen Le Tuyen at the France National Library in March.
The 'Tai Tu' piece was a musical notation of French researcher Julien Tiersot in 1900. Famed French ballet dancer Cleo de Merode danced to this song.
After finding the musical work, researcher Nguyen Le Tuyen sent his discovery to Professor Tran Van Khe, Master of Vietnamese traditional music, Professor Tran Quang Hai, musician Vinh Bao, Dr. Mai My Duyen, Dr. Nguyen Thi My Liem, musician Huynh Khai and researcher Bui Trong Hien for their expert opinions.
The "Indochina Dance" will be performed at the conference and will attract more than 500 musicians and traditional music experts from many countries and territories across the world.
"We are so happy with researcher Nguyen Le Tuyen's discovery. It shows that Tai Tu music was presented to the world more than 100 years ago", said musician Huynh Khai, Dean of the folk music department of Ho Chi Minh City Conservatory of Music.
Researcher Nguyen Le Tuyen and Professor Tran Quang Hai will attend the conference together with a Vietnamese delegation.
Nguyen Le Tuyen is lecturer and Vietnamese music researcher in Austrian National University. He came home for researching and performing Highland gongs in 2012.
Vu Kim Anh, deputy director of HCMC Department of Culture, Sports and Tourism, said presenting the most ancient piece at the conference is a good chance to promote Vietnamese traditional music, especially "Don ca tai tu" or Southern amateur music that have been compiled to submit to UNESCO, for recognition as an Intangible Cultural Heritage.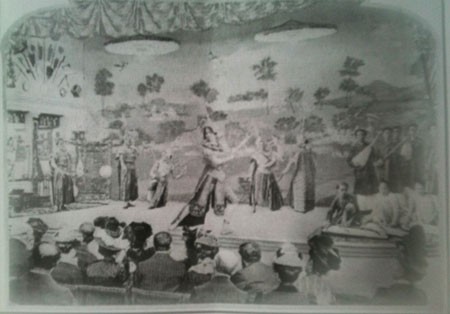 Vietnamese 'Tai Tu' music was performed for the first time in France in 1900--famous French ballet dancer Cleo de Merode (C) danced to this song.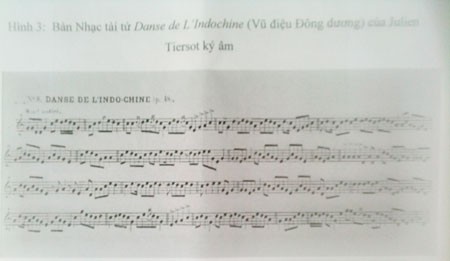 The musical notation of tai tu piece "Indochina Dance" by French researcher Julien Tiersot.