The annual concert, "Dieu Con Mai" (Remaining forever) concert will take place at Hanoi Opera House in Hanoi on the National Day, September 2.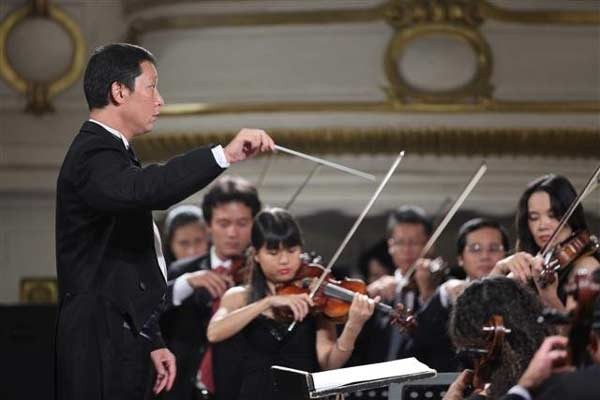 Conductor Le Phi Phi
The concert will open with Vietnam's national anthem, "Tien Quan Ca" (Song of Marching Troops) of musician Van Cao performed by the VNSO under the baton of noted conductor Le Phi Phi.
There will be also popular revolutionary songs, such as Chao mung (welcome) by Trong Bang, Cam xuc thang Muoi (Feeling of October" by Nguyen Thanh and Ta Huu yen, Bon buc tranh (Four paintings) by Dang Huu Phuc, Tinh ca Tay Bac (northwestern love song) by Bui Duc Hanh, Bach Dang Giang (Bach Dang river) by Tran Manh Hung.
Ho tren nui (lake on mountain) by Pho Duc Phuong, Nguoi la niem tin tat thang (Uncle Ho – Our Belief in Victory) by Chu Minh, Quang Binh que ta oi (Quang Binh, my homeland)by Hoang Van, Tinh yeu cua bien (love of the sea) by Phu Quang, Dat nuoc tron niem vui (The country with full joy) by Hoang Ha.

Singers Tung Duong, Hong Vy, Le Anh Dung, Thanh Le, the orchestra of the University of Central Arts Pedagogy, and the Vietnam National Symphony Orchestra will perform at the event.
The concert will be broadcasted live on VTV 3 channel by Vietnam TV.