Thousands flocked to the opening ceremony of the Hung Kings Festival at the temple built in honor of the legendary founders of Vietnam in the northeastern province of Phu Tho on March 31.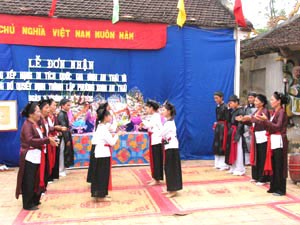 Xoan singing at the opening ceremony of the Hung Kings Festival in Phu Tho Province on March 31
The festival this year is themed "du lich ve coi nguon" (tour back to the original point).
 
The opening day saw folk music performances, traditional events like a crossbow performance, wrestling, and chess, and exhibitions of Hong Bang Dynasty relics and art photographs.
 
Earlier, the Viet Tri City's Party Committee, People's Council, People's Committee, and Fatherland Front Committee held a solemn incense ceremony for the Hung kings.
 
The next few days will see more traditional events. Some dying traditions like playing the kettledrum and xoan singing (a traditional music originating during the time of the Hong Bang Dynasty) will be revived.
 
There will be competitions involving wrapping and cooking banh chung (glutinous rice cakes) and banh giay (round sticky rice cakes), boi chai in which 15 members row a boat and keep singing during the trip, and picking up the palanquin.
 
The festival will come to a close on April 4.