A street book festival, part of Nguyen Hue Flower Street-the much awaited annual flower show will open from January 28-February 3, according to the Ho Chi Minh City People's Committee's  Department of Culture, Sport and Tourism.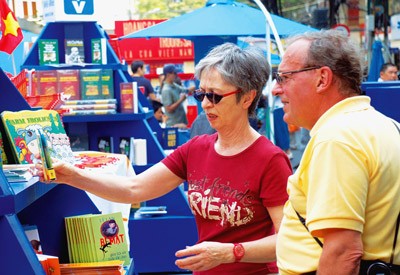 Foreign tourists visit 2013 street book festival.
The book fair will include an exhibition of books and paintings commemorating the revered General Vo  Nguyen Giap and pay tribute to his great contribution to the country.
The display featuring 80 photos will be divided into four themes including "Gen. Vo Nguyen Giap in people's hearts", "General Vo Nguyen Giap, the Commander-in-chief of the Vietnam People's Army", "General Vo Nguyen Giap and international friends", and "Vo Nguyen Giap, General of Peace".

Exhibits will present to viewers the General's revolutionary life and daily activities.

The street book festival featuring thousands of copies of publications of various genres such as politics, culture, history, literature and economics, and universal knowledge will be held on Mac Thi Buoi, Nguyen Hue and Ngo Duc Ke.

Publishing houses namely Fahasa Book Distribution Joint Stock Company, Thai Ha Books, Nha Nam, Tiki, Phan Thi and HCM City's General Science Library will join the event.
Readers will have a chance to participate in exchanges with Italian painter Valentina Giannangeli; local painter Pham Thanh Tam; teacher and writer Nguyen Ngoc Ky; young writer Hamlet Truong and storyteller on radio, Nguyen Huong Duong, director of the Speaking Book Library for the Blind.