Indian telecommunications mogul Dr. Bhupendra Kumar Modi and Vietnamese-French Zen Master Thich Nhat Hanh sat down together in the office of Giac Ngo newspaper in Ho Chi Minh City yesterday to talk about the upcoming production of an epic feature film about the Buddha based on the Master's book "Old Path White Clouds".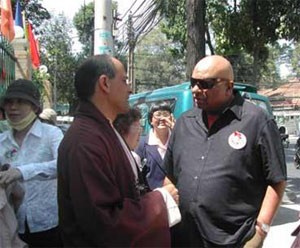 Indian billionaire Bhupendra Kumar Modi (R) stands in front of the office of Giac Ngo newspaper. (Photo:TTO)
The film, which is catching the attention of a great number of intellectuals, Buddhists, Vietnamese filmmakers and reporters, will be made by a team of well-known Hollywood producers and directors with a budget of US$120 million.

Mr. Modi said actors are now being sought for the English-language production and that any Vietnamese person is welcome to audition. The US$120-million budget is for the production only. A further US$150 million will be spent on the worldwide release in 2008.

The Indian billionaire read many books about the extraordinary life of the Buddha before settling on "Old Path White Clouds" to make into a film. Having made the decision, he spent ages tracking down the author.

"An actor cannot take the role of Buddha if he has not thought deeply about the Buddha and does not have a merciful, generous and kind spirit," he explained.

"Old Path White Clouds" is a best seller throughout Asia with over 2 million copies sold to date. The book has been printed in the US, UK, France, Italy, Germany, Japan, Australia, Korea, China, Taiwan ( China ) , Viet Nam, India and numerous other lands.

Established in France in 1982, Plum Village (Lang Mai) led by Zen Master Thich Nhat Hanh is home to about 150 monks, nuns and lay practitioners and yearly welcomes thousands of guests coming to retreat from all over the world.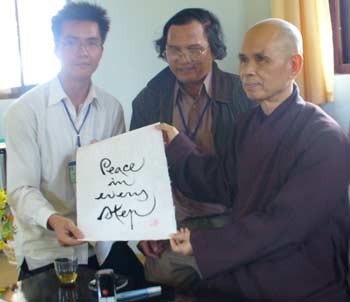 Zen Master Thich Nhat Hanh (R) gives the calligraphy work to SGGP reporter. (Photo: TK)
Thich Nhat Hanh and his entourage of 100 monks and nuns and 90 other followers, mostly expatriate Vietnamese, are spending three months in Viet Nam and putting on three mass shows with a Buddhist theme.

The first ceremony, done in the traditional style of the south, was held at Vinh Nghiem Pagoda in Ho Chi Minh City and lasted for three days starting last Friday.

The second will be held at Dieu De Pagoda in Hue from April 2 to 4 and done in the fashion of the central region.

The third, in the northern ceremonial style, will take place at the Vietnam Buddhist University in Ha Noi's Soc Son District from April 20 to 22.

The participants in these ceremonies will pray for the peace, prosperity and happiness of the country, the people's welfare and the souls of the deceased.
On his second trip to Viet Nam, Zen Master Thich Nhat Hanh spoke before a 6,000-strong audience of monks and lay followers in a new meditation hall in Lam Dong province.

His visit this March gave Sai Gon Giai Phong a chance to meet the master, who produced a piece of calligraphy work that reads "Peace in every step" as a gift to the newspaper's readers.

Thich Nhat Hanh hopes to heal the last remaining wounds of the Vietnam War through his three Great Chanting Ceremonies in Ho Chi Minh City, Hue and Ha Noi. At these events, he delivers a daily talk about understanding and the liberation that can be realized in the hearts of the deceased people's relatives.

By Trong Khuong