Vietnamese model Vu Nguyen Ha Anh has gone to the Philippines to compete in the 2006 Miss Earth pageant, the fourth to vie for the high-profile title in as many years.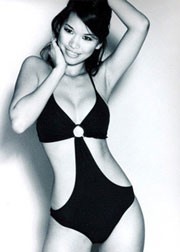 Vu Nguyen Ha Anh
The 24-year-old, who holds a business degree from Britain's Reading University and studied singing at the Royal Academy of Music before taking up artistic development at the same institution, believes her training will hold her in good stead in the Talent Quest segment of Miss Earth.
"It is an honor for me to represent Vietnamese beauty and take part in the pageant. I will try my best to make a good impression and win the hearts of the jury, audiences and the other contestants. All my outfits are ready for the competition and the press conferences," the 24-year-old told reporters.
Ha Anh's achievements to date include first prize in a modeling contest organized by Glamour Fair and A La Carte, winning Clickwalla's "Face of Asia" competition and scoring the "Best Figure" award in Viet Nam's 2005 Miss Photo contest.
She is not the first Vietnamese model to vie for the Miss Earth title; Nguyen Ngan Ha, Thuy Hanh and Thanh Hoai trod that path in 2003, 2004 and 2005 respectively.
The final round in the Philippines will be held on November 26, when one of the 60 contestants, perhaps Vu Nguyen Ha Anh, will be crowned Miss Earth 2006.