A display featuring antiques from the Nguyen Dynasty and a photo exhibition of historical sites and landscapes in Hue, Ha Noi and Sai Gon (the former name of Ho Chi Minh City) is being held in Hue City from 30 May to 12 June 2008.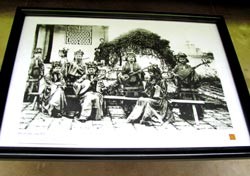 Photo of a royal art troupe of Nguyen Dynasty
More than 10,000 artifacts including royal costumes, pottery and other relics are presented at the Hue Royal Citadel Antique Museum. The exhibition gives visitors a chance to learn about of architectural structures and daily activities of the Nguyen Dynasty (1802-1945).
The photo exhibition at Dai Noi (Hue Imperial City) introduces audiences to around 100 pictures featuring the cities of Ha Noi, Hue and Sai Gon in the early 20th Century.
The show co-organized by the Hue Cultural Relic Preservation Center and Hue Royal Citadel Antique Museum is one of the activities to mark the 2008 Hue Festival from the 3-11 June 2008.