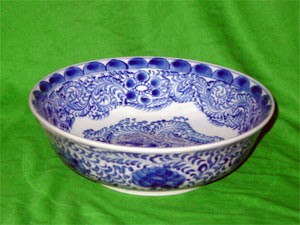 Vietnamese ceramic bowl (Photo: Hoang Uy)
Lo Van Huong, a farmer from the northern province of Son La, has discovered an ancient enamel pot containing 12 ceramic bowls. According to the province's museum, the antiquities date from the 14-15th century.
The pot is enameled in a dark brown, with a wave pattern at the neck. It is 45 centimeters tall, has a rim diameter of 20cm and a base diameter of 18cm.
The other 12 bowls can be split into 2 different types; those that are 4 centimeters tall, have a 16 centimeters diameter rim and a 7.5 centimeters diameter base, and those that are 5 centimeters tall, have a 15 centimeters diameter rim, an 8 centimeters diameter base and are enameled in pale yellow. Both are without pattern and have a layer of enamel 2-3 centimeters thick around the bottom of the base.
The antiquities are currently being showcased at the Son La Museum.