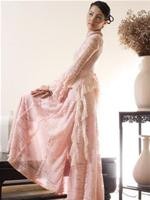 A suit of Ao Dai by Minh Khoa
San Jose Museum of Quilts & Textiles and Viet Arts will present "Ao Dai: a Modern Design Coming of Age" exhibition on April 18 and run through July 9, 2006.
It is the first time that Ao Dai, a Vietnamese traditional dress, is introduced to the fashion world in a long and large-scale exhibition.
Three Vietnamese designers Minh Hanh, Si Hoang, Minh Khoa and an artisan Trinh Bach, are invited to take part in the exhibition.
Artisan Trinh Bach is a collector and restorer of royal clothes from the 19th and 20th centuries. In the exhibition, Mr Bach will introduce three suits of Ao Dai. They consist of Prince's costumes which are used for ceremonial parade or a husbandry ceremony, and ceremonial attires of Queen and mandarin.
Designer Minh Hanh presents 30 suits of Ao Dai. Mrs Hanh uses mainly ethnic minorities' brocade with typical Vietnamese flowers drawings, such as daisy, lotus… She also collects antique paintings to research their patterns and makes unique styles of Ao Dai.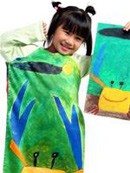 A suit of Ao Dai for children by Si Hoang
Designer Si Hoang sends to the exhibition suits of painted Ao Dai, his strong point, and suits of Ao Dai for children with patterns, which are of their own painting.
Designer Minh Khoa represents modern style. His modes are luxury and innovative wedding dresses. They are made from materials which are also used for making Japanese kimono. Besides, there are suits of Ao Dai made of lace, and have been influenced by European styles.