Nearly 100 models of the traditional long dress ( ao dai ) by fashion designer Pham Quoc Tuan are on display at Vietnam Women's Museum in Hanoi from Oct. 18-20, as part of activities to mark Vietnamese Women's Day (Oct. 20).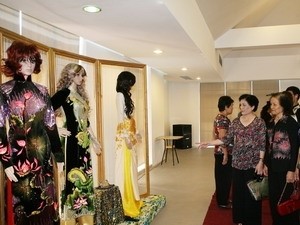 Ao dai by fashion designer Pham Quoc Tuan (Photo: Vietnamplus)
The collection is designed with the lotus – nominated as Vietnam 's national flower – as the main theme, combined with traditional decorative patterns of 54 Vietnamese ethnic groups and Chinese and Japanese painting.
Tuan said the collection is a combination of traditional and modern culture and highlights new features without losing Vietnamese cultural identity.
In addition to enjoying a variety of colourful long dresses, visitors also have a chance to get an insight into the evolution of this classic dress over time.
Each nation in the world has its own national dress – Japanese have the kimono, people in the Republic of Korea wear the hanbok and Vietnamese have the ao dai.
With the upper part clinging to the body and two gentle flaps falling loosely, the ao dai helps promote the gracefulness and femininity of Vietnamese women. This costume also serves as clothing for office, school or formal occasions.