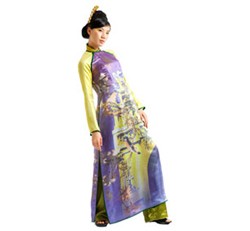 A model of designer Minh Hanh
Ten collections of Ao Dai (Vietnamese traditional dress) themed "Color of the Time" of ten designers, such as Thu Giang, Anh Vu, Hoai Sang, Minh Hanh, etc. with 300 Ao Dai depicting the characters of ancient Hue court's architecture, will be on show in Hue Festival 2006.



The ancient beauty of Hue, such as Hue Imperial Palace architecture's carving art, ceramic flowery patterns, picturesque landscapes, images of dragons, phoenixes, and flowers are sources of inspiration of designers to perceive and bring them into their collections.

The fashion show will be performed on 30 boats anchored along the Huong Riverside up to Thuong Bac Park, at 8p.m. on June 8, 2006. The audience will sit on 50 dragon-boats around the stage to watch the performance.
Related articles:
- Hue Calls for Investments
- Cultural Heritage with Integration and Development
- Quoc Binh's Collection to Be Introduced in Hue Festival
- International Sculpture Symposium "Hue-Viet Nam Impression 2006" Opens
- First International Musical Composition Camp in Viet Nam
- "Viet Nam's Flying Wings" Kite Festival
Link: www.huefestival.com