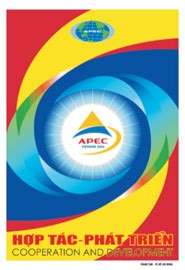 The first-wining poster by Phan Tam

The exhibition and award ceremony of the APEC 2006 Posters Contest, organized in June by the Bureau of Local Culture and Information under the Ministry of Culture and Information, took place at Ha Noi yesterday.

With the posters, the candidates propagandized and promote activities of the APEC summit. They sent a message of hospitality and good preparation for the meeting, the year's biggest event in Viet Nam, to the international visitors.
The Bureau has selected four high quality posters to print 40,000 copies and 200 CD-ROM to popularize APEC at localities.