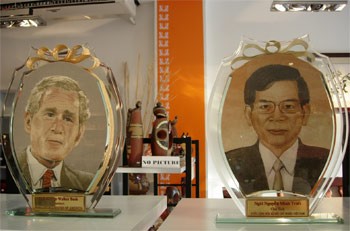 Portraits of U.S President George Walker Bush (L) and Vietnamese President Nguyen Minh Triet (R).   (Photo: KK)
The 21 political leaders coming to Viet Nam for the APEC summit will be presented with their portraits made out of sand by the artist Y Lan.
For now the sandy visages of Vladimir Putin, George Bush and their ilk are on public display at the Ho Chi Minh City Investment and Trade Promotion Center, 92 Nguyen Hue, District 1, where they will stay until Saturday.
Besides the Russian and U.S. presidents, there are sand paintings of Vietnamese President Nguyen Minh Triet, Singapore Prime Minister Lee Hsien Loong, Philippines President Gloria Macapagal Arroyo, Chilean President Michelle Bachelet Jeria and the other heads of state and government leaders who will be attending the APEC summit.
Self-taught Y Lan is the country's leading exponent of sand painting and is establishing quite a reputation for herself well beyond Viet Nam's borders.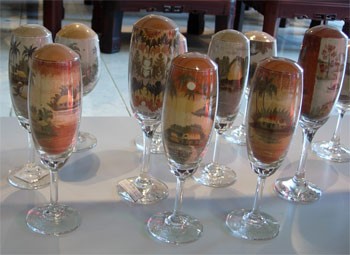 Landscape sand paintings  (Photo: KK)
Since she began working in the medium in August 2001, the artist has used 15 kinds of natural sand from Phan Thiet in Binh Thuan Province to create nearly 1,500 sand paintings. She even has a mention in the Guinness Book of Records
With the presidential portraits, the sand is kept in place by two parallel sheets of glass, whereas the pictures of scenic spots and historical places are contained in drinking glasses.
Y Lan never uses glue or other chemicals, but simply a coffee spoon, a container and her carefully mixed material. Her pictures are made with passion, patience and a touch of romance.
Because they are made of sand and nothing else, the paintings can be used to decorate the garden as they have nothing to fear from the weather.
Y Lan usually gives the proceeds from sales of her work to help the poor.