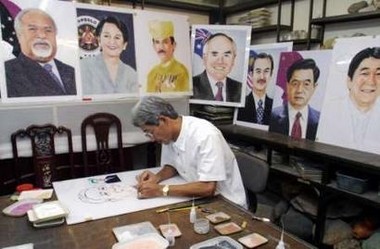 Vietnamese gem trader Dao Trong Cuong puts the finishing touches to a gem-made portrait of Indonesia's President Susilo Bambang Yudhoyono (AFP Photo)
The 21 leaders, who will be in Viet Nam for the APEC summit, will be presented with their portraits made out of semi-precious stones by the Than Chau Ngoc Viet Company in Ha Noi.
The idea of making the portraits popped into the head of Than Chau Ngoc Viet director Dao Trong Cuong early this year and received approval from the Government Office and the APEC organizers.
Since then, 13 employees of the company have been busy turning Mr. Cuong's dream into something material.
They started off by drawing outlines of the faces and painting the colors, after which they glued on semi-precious stones to match.

The most important thing was to choose stones of suitable colors. For the facial skin, for instance, pink and saffron stones were ground up and mixed to create a natural color.
Since the process was very delicate and time-consuming, there were a few hiccups along the way, the most obvious being the changes in the color of the finished Japanese and Thai leaders' portraits, changes that forced the employees to start again from the beginning.
Luckily for Shinzo Abe and Surayud Chulanont, their redone portraits turned out well.
Mr. Cuong puts the cost of each portrait at US$2,000 excluding US$150 for the frame. Apparently the Vietnamese government is happy with this price and has agreed to buy all the portraits to present to the APEC visitors.
On a trip to Cuba with then-National Assembly Chairman Nguyen Van An, Mr. Cuong presented Fidel Castro with a big portrait of the Cuban president made out of semi-precious stones.
President Castro was so touched by the gift that he sent 80 million thank-yous to the Vietnamese people.
Microsoft's Bill Gates also received one of Mr. Cuong's special portraits when he was in Viet Nam not long ago.