An exhibition called "APEC Images and Vietnamese Cultural Heritage" opens at the Viet Nam Culture and Arts Exhibition Center in Ha Noi tonight.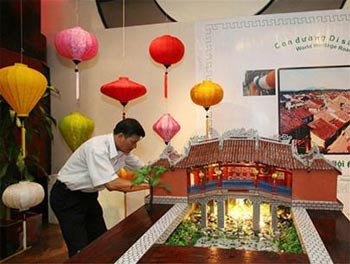 The model of Chua Cau (Bridge Pagoda in Hoi An ancient town) is displayed at the exhibition
Channel VTV1 will broadcast the opening ceremony live from eight o'clock, starting with a performance of kylin and dragon dancing by a troupe from Ho Chi Minh City.
Open daily from 9 am to 10 pm, the ten-day exhibition on an area of 800 square meters will showcase the national characteristics of the various APEC members.
From Viet Nam there'll be fashion shows, water puppet shows, and performances of Ca Tru (ceremonial/festive songs sung by women), the folk theatre known as Cheo, the royal court music of Hue called Nha Nhac, and amateur chamber music from the south (don ca tai tu Nam Bo).
The country's tea culture will be presented in several adjoining bamboo houses with thatched roofs built over a lotus pond, and earthen water jars, arecas and wood-burning stoves inside.
Three public talks about the art of tea making and enjoyment are scheduled for the exhibition and are sure to attract APEC leaders.