Public arts performances in Vietnam are often held during festivals, but in neighboring countries, they can be seen anytime, anywhere. The Mekong Arts and Media Festival 2009 in Phnom Penh, Cambodia last week introduced many effective ways of encouraging cultural activities in the community.
Connecting through art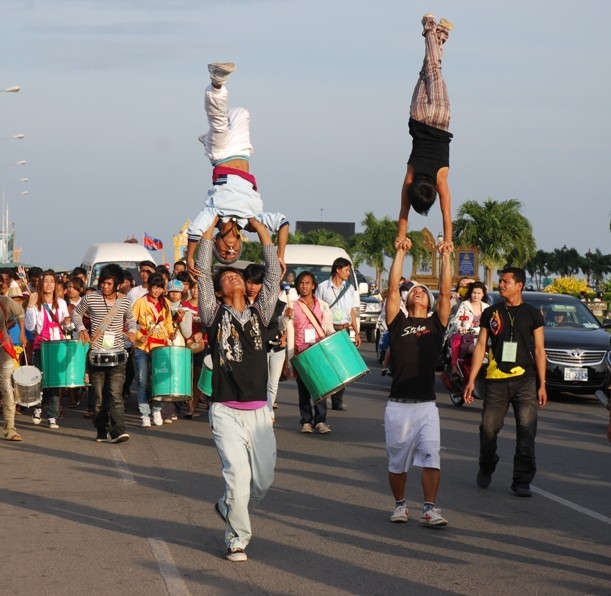 PPS artists perform on street during the opening ceremony of the Mekong Arts and Media Festival 2009 in Phnom Penh, Cambodia Nov. 23-27, 2009. (Photo: Tung Son)
After the Khmer Rough was ousted from Cambodia in 1979, many young people who had fled the brutal regime were living in refugee camps along the Thailand-Cambodian border. To help them cope with the psychological stress of their ordeal, painting courses were established in 1986 as a form of therapeutic expression.
In 1992, when many refugees returned home, they continued the idea of using art as creative therapy. Volunteers set up the Phare Ponleu Selpak (PPS), meaning "brightness of art." They built three training schools and began organizing artistic performances.
Circus acts also featured prominently in the PPS. Khoun Det, the director and one of the founders of the group, said audiences love the circus performances, which incorporate drama, humor and music. The PPS even addresses topical issues like HIV/AIDS in their shows to raise public awareness in a comfortable atmosphere.
Community arts programs also allow youth to express themselves and work together to address their concerns.
Chinese dancer Zhang Yinzhong has developed a project for children to discover their cultural heritage through dance, theater and acting. According to Zhang, in today's modern world, such culture and tradition are often lost or not taught to young people.
Zhang says the plays he creates are designed to be simple but effective. Often, experts are invited to speak on current issues related to the play.
Participants in our dancing courses often go on to earn a living through performance art, Zhang adds.
Khoun Det said that after children are selected for art training courses, the PPS encourages outstanding students to enter professional art schools and sends them to Vietnam for further training.
Besides public performances, they will have opportunities to work in professional theaters.
Experts say that in Vietnam, there is a belief that street performances and the artists who perform them are of a lower standard. With this idea, Vietnam has insulated its arts within the margins of the theater instead of opening them up to the community.
Four bold Vietnamese performers, however, are breaking the mold with their provocative play "Stereo Man." Nhu Lai, Hoai Nam, Hoang Tung and Cong Dung say they overcame their initial hesitations and began performing at universities nationwide.
Their show has been warmly received and is proving a great success in raising public awareness about a host of topical issues.
Many are hopeful that in the near future, more Vietnamese will come to see the value of liberating art performances from the confines of the theater.