Ha Noi's Vietnam Fine-Arts Association is hosting 52 works from eight Argentinean artists to display contemporary artists' depictions of the country to Vietnamese art lovers.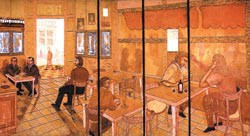 A painting by Ricardo Bajdacz
Vietnamese and Argentine fine arts have developed very similarly, commented Ms. Elssa Etchagaray, an Argentine Embassy official.
Organizing the exhibition publicly has brought about the opportunity for the Vietnamese art-lovers to approach the works, she added.
The exhibition "Argentine contemporary fine art" is being held by the Vietnam Fine-Arts Association and Argentine Embassy in Ha Noi.