The 24-year-old pop star revealed on her Instagram account she could not perform due to 'health problems' about 5 hours before the concert.

The "Side to Side" singer wrote: "My babes in Vietnam, I apologize from the bottom of my heart but I'm really dealing with some health problems at the moment. I came here to Vietnam, so excited to perform, my doctor won't allow me to do the show for you tonight. I'm so sorry. There is nothing I hate to do more than to do this but I promise to make it up to you in the future. I love you and thank you for understanding."
Thousands of Ariana Grande fans have been very disappointed by news that her upcoming concert has been cancelled.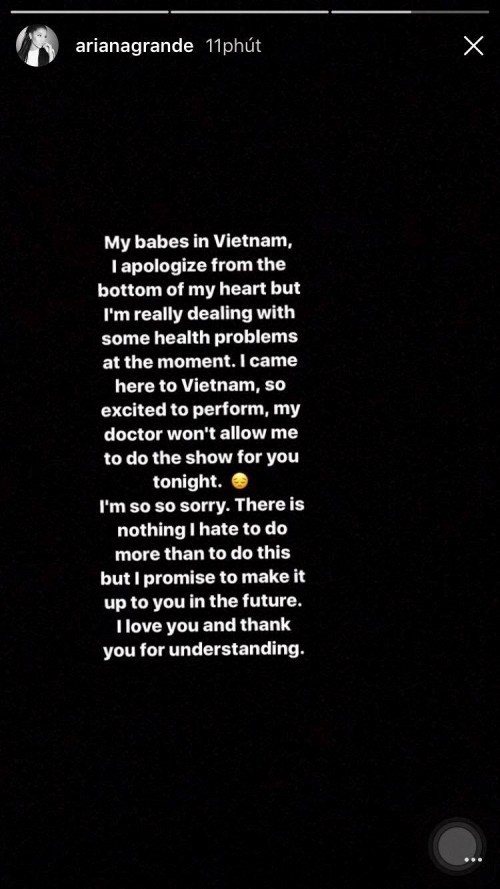 Vietnam is one of the four Southeast Asian nations on Grande's third tour "The Dangerous Women". The concert tour began in America on February 3, then took place in Europe in May and June. It will be scheduled for Latin America in July and Asia in August and September. Ticket of the show costs from VND790,000-VND16 million (US$35 – US$700).
Ariana Grande released her debut studio album, Yours Truly, in 2013, which debuted at number one on the US Billboard 200. The album's lead single, "The Way", debuted in the top 10 of the Billboard Hot 100. As of March 2016, "The Way" has sold 2.3 million copies in the United States and has been certified triple platinum.
Grande's second studio album, My Everything in 2014, debuted at number one in the US and charted in the top 10 in 24 other countries. With the lead single "Problem" and several others from that album, she was continuously in the top 10 of the Billboard Hot 100 for 34 weeks and had the most top 10 singles of any artist in 2014.
In 2016, she released her third studio album, Dangerous Woman. The title track debuted at number 10 on the Billboard Hot 100.