An exhibition of culture and art entitled "60 nam den on dap nghia", expresses gratitude to war invalids and martyrs who sacrificed their lives and struggled for independence and freedom for the country. It will take place at the Viet Nam Culture Exhibition Center in Ha Noi from July 24 to 27.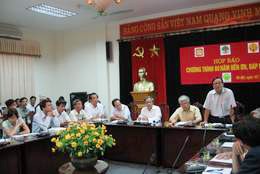 The organization board announces the information of the exhibition at the press conference.
The exhibition is divided into 14 separate displays and features thousands of documents, photos and objects relating to President Ho Chi Minh, the Party guidelines and State policies for war invalids and martyrs and the "Drinking water, think of its source " movement.
It will be the first time that the public will have access to many of the articles in the display.

Such exhibits include the piece of cloth used to blindfold heroine Vo Thi Sau when she was executed by the French rulers, tombstones engraved with martyrs' names, national flags, shrouds and censers, etc. Many of the items were discovered during recent searches for remains of soldiers killed during the war.
Proceeds from the exhibition are for the construction of monuments at the martyr cemeteries, to support martyrs' families and to offer scholarships to children of war invalids and martyrs.