The Viet Nam Art Association will hold a painting and photography competitions for photographers and artists nationwide with encouragement given to those with disabilities.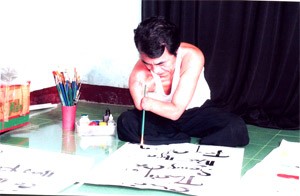 A disabled draws a painting with an extra effort
The competition will encourage disabled people to participate and overcome their adverse situations.
VND10 million, VND5 million, VND2 million and VND1 million are planned for the first prize, two second prizes, three third prizes and each of the seven encouraging prizes respectively.
Moreover, a special prize worth VND5 million is for disabled contestants.
Competitors must send in their work accompanied by a short article detailing information about the artist.
Work must be sent to 19 Hang Buom Street, Ha Noi, no later than October 31, 2006.
The excellent artworks will then be displayed and put up for charity auction.