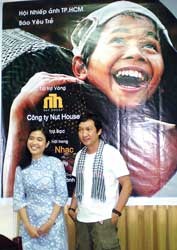 Ly Hoang Ly (L) and The Phong
A exhibition of photos and installation art featuring  the works of photographer The Phong and artist Ly Hoang Ly is being held at Ho Chi Minh City Exhibition House on 92 Le Thanh Ton Street, District 1.
The show, entitled "Ways of Children," presents 99 photos by Phong, a photojournalist of Yeu Tre Magazine. The pictures show the daily activities of disabled children and street children in coastal and highland regions and in the Dong Thanh garbage dump in Hoc Mon District.
The works "Garbage," "Water," and "Cloud" by Ly, a member of the Ho Chi Minh City Fine Art Association, are also displayed. Fifty percent of proceeds will support disabled and disadvantaged children in the city.
The display is organized by the Yeu Tre Magazine and Ho Chi Minh City Photography Association. It will last to May 25.