Compared with two previous exhibitions, "The beauty of Saigon –Ho Chi Minh City 2005" is better, not only in the abundant number of works, but also in its interesting form. Its design is based on the setting of nice southern fields, with traditional materials, such as bamboo binds, leaves, flowers and local fruits…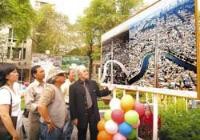 The beauty of Sai Gon at Chi Lang Park, photo : SGGP

Mr Vo Cong Anh, Director of the Ho Chi Minh City Exhibition- Information Center, said: "The organization board has selected beautiful photos which won domestic or international photographic awards about events, the beauty of country or people, traditional careers… We also introduce some photos of nature by two photographic clubs Gia Dinh and Hai Au, and some photos of old Saigon's landscapes taken by Raymond Cauchier , a French photographer, in 1956".

At the end of the year, Ho Chi Minh City has a wide variety of activities. The beauty of Saigon-Ho Chi Minh City" exhibition is one of them.

Mr Anh adds:" Besides novel decorations and beautiful settings for people to come to enjoy and take photographs, we also hold folk song programs which are played by folk song bands at Chi Lang Park to attracted many domestic and foreign visitors".