An art performance took place at the Opera House in Ho Chi Minh City to mark the 10th anniversary of the program titled 'Forever Autumn' on September 23.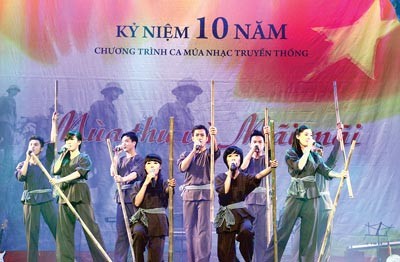 The Vietnamese traditional revolutionary song is performed in the celebration(Photo:SGGP)
The program has been organized in the City 100 shows in the last 10 years attracted over 50,000 audiences from many different fields such as students, workers and ect...
As part of the anniversary celebrations, a series of Vietnamese traditional revolutionary songs were performed by well-known singers, music groups, such as the song 'Nam Bo Khang Chien' (South Vietnam's Resistance), 'Vietnam Que Huong Toi' (Vietnam is My Fatherland), 'Thanh Pho Toi Yeu' (I love the City) and many other famous songs.
On this occasion, the Prime Minister awarded certificates to two teams and two individuals, who have had many achievements as well as contributions for the program.
Moreover, the People's Committee of Ho Chi Minh City also awarded certificates to seven outstanding teams and 27 individuals for performances during the last ten years.